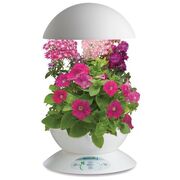 The AeroGarden 3 features the plant-growing magic of our AeroGarden Classic in a compact coffee-maker sized unit.
Enjoy your favorite herbs or flowers in smaller spaces like the bedroom, bathroom, or office.
The Stats
Edit
Size: 14"H x 9.5"W x 11"D (20"H when extended) Weight: 15 lbs Holds: 1.5 quarts or 1.4 liters of water
Power Ratings: ~18W of power. Ratings ~115V, 60Hz, 0.45A
Bulb: The AG3 takes the Deluxe B Grow Bulb
Seed Kits: Takes 3 pod seed kits. (Can use 6 pod seed kits)
Height: Classic Height
Available models:
Edit
All gardens are the same height.
Available in Black, White, Silver, Elite (Black with Stainless Steel Accents), Designer Colors (Lime, Orange, more), and the Antics series (Ladybug, Kitty Cat, Tomato)

Obsolete model: The AeroGarden Mini. An early design with an external air hose connecting the base to the bowl. Sold through November 2009. Parts are available.
Ad blocker interference detected!
Wikia is a free-to-use site that makes money from advertising. We have a modified experience for viewers using ad blockers

Wikia is not accessible if you've made further modifications. Remove the custom ad blocker rule(s) and the page will load as expected.