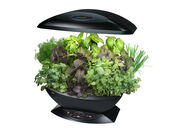 Description
Edit
The AeroGarden 6 has all the same features and plant-growing magic of the AeroGarden 7, but with more room on the grow deck. This additional room allows your plants to grow and thrive as they have more room to expand and absorb light from the AeroGarden 6's powerful grow bulbs.
Please note: The AeroGarden 6 is only compatible with AeroGarden 6-Pod Seed Kits.
21"H x 18"W x 10.5"D
2 AeroGarden 6 Grow Bulbs
Seed Kit
Recommended for=
Edit
Family Chefs, Cooking Enthusiasts, Healthy Eaters, Aspiring Gardeners Bulbs
Customers most agreed on the following attributes:
Pros: Easy to setup (112), Easy to use (111), Plants grow quickly (101), No mess (94), Attractive (69)
Cons: Long grow time (4), Large footprint (3)
Best Uses: Growing herbs (88), Growing veggies (63), City living (56), Small kitchens (55), Large kitchen (46)
Describe Yourself: Casual cook (67), Avid cook (45), Gourmet chef (5)
Ad blocker interference detected!
Wikia is a free-to-use site that makes money from advertising. We have a modified experience for viewers using ad blockers

Wikia is not accessible if you've made further modifications. Remove the custom ad blocker rule(s) and the page will load as expected.