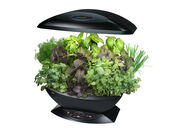 Description
Edit
The AeroGarden Space·Saver 6 has a compact, triangular shape that is a perfect fit for kitchen counter-top corners. It's smaller footprint uses about 30% less space than the AeroGarden 6 and features high-efficiency lighting and a quiet, low maintenance Advanced Growing System (AGS).
21"H x 11"W x 16"D
Recommended for
Edit
Herb User, Cook, Space-Challenged, Office, Basic User, Gift-Giver, Bargain-Hunter
Customers most agreed on the following attributes:
Pros: Easy to setup (44), Easy to use (41), Plants grow quickly (40), No mess (32), Small footprint (28)
Best Uses: Growing herbs (35), City living (29), Small kitchens (28), Growing veggies (15), Large kitchen (11)
Describe Yourself: Avid cook (21), Casual cook (18), Gourmet chef (7)
Ad blocker interference detected!
Wikia is a free-to-use site that makes money from advertising. We have a modified experience for viewers using ad blockers

Wikia is not accessible if you've made further modifications. Remove the custom ad blocker rule(s) and the page will load as expected.