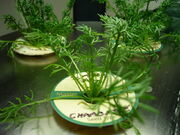 Common name for several daisy-like plants. These plants are best known for their ability to be made into a tea which is commonly used to help with sleep and is often served with either honey or lemon. Chrysin, a specific flavonoid found in chamomile, has been shown to be anxiolytic in rodents and is believed to be at least partially responsible for chamomile's reputation as a sleep aid.
Species: Chamomile or camomile (German Chamomile Tea Chamomile, Common Chamomile, Hungarian Chamomile, Wild Chamomile, Scented Mayweed, Manzanilla)
Depth to sow seed:0.25"
Days to sprout: 7 to 14 days.
Maturity: 6 weeks
Compatible with Aerogarden? Yes
Testamonials
Edit
"It has been just over a month now in the Chamomile tea garden and these little guys are growing great." - drdave501[1]
Aerogarden Compatibility
Edit
Yes
Cultivation and Care
Edit
Ad blocker interference detected!
Wikia is a free-to-use site that makes money from advertising. We have a modified experience for viewers using ad blockers

Wikia is not accessible if you've made further modifications. Remove the custom ad blocker rule(s) and the page will load as expected.