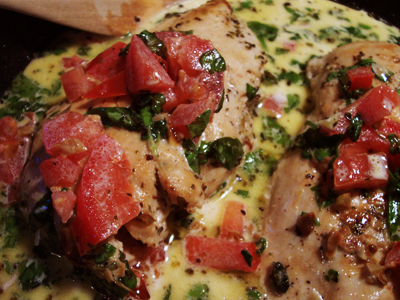 Cook time: 50 minutes.
Description
Edit
This chicken breast recipe is easy and delicious! The sauce is also great over pasta.
Ingredients
Edit
Basil Sauce
1 c. skim or 1% milk
1 clove garlic (2-4 cloves if you really like garlic)
2 Tbsp. butter (or no-cholesterol margarine like Becel)
2 Tbsp. flour
1/2 tsp. chopped fresh basil (lots more if you have it)
Seasoned salt and pepper to taste
Directions
Edit
Basil Sauce
Blend all ingredients in blender or right in saucepan with a hand blender until everything is mixed well.
Cook over medium heat until sauce reaches the boil and simmer for an additional minute.
Chicken
Roast 2-4 boneless, skinless chicken breasts at 350º for 40 minutes.
Top with basil sauce and return to the oven for an additional 10 minutes.
Note: Although the above recipe recommends that you roast your chicken breasts in the oven, you can also poach them on top of the stove. If you decide to use the poaching method, be sure to simmer them for about one hour in low-salt chicken stock. Drain the stock before adding basil sauce and simmer on very low heat for another half hour after adding the sauce.
http://1stratearticles.com/Articles/Content/AeroGarden_Recipe_Chicken_Breasts_with_Basil_Sauce-2590.html
Type your review here - Sign your name
Ad blocker interference detected!
Wikia is a free-to-use site that makes money from advertising. We have a modified experience for viewers using ad blockers

Wikia is not accessible if you've made further modifications. Remove the custom ad blocker rule(s) and the page will load as expected.